Sharisse 'Shar' Jackson was famous as Niecy on the hit show Moesha. That is..until it was revealed she was the mother of K-Fed's (Britney's ex) chirren. Be that as it may, Shar's the mother of four children, whose oldest child (son Donnie) accdg to wikipedia is turning 16 this year. She looks good. Well, as women we all know the toll ONE child can have on your body, let alone 4. So Shar decided to treat herself to a mommy makeover (well the main parts)...Shar invested those reality TV $$

($15,000 to be exact)

into a tummy tuck, and breast lift. I'd say it was money well spent. She looks good and she exudes confidence. WHAT DO U SAY, JUDGES? Now, if only we can make over baby doll's wardrobe...but I digress.

Pre-Surgery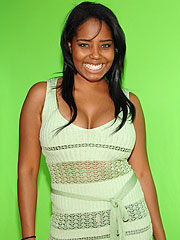 pic after plastic surgery

What is this photoshopped crap?! (photo below)
Go 'head Shar with your bad self!!! I ain't mad at you girl