I love me some Paula Abdul. I loved her when she was a Los Angeles Laker Cheerleader, Janet Jackson's choreographer, singing Straight Up Now Tell Me...well you know what the hell I'm trying to say. I'm a Paula stan. Eventhough she's not technically black...she's a soul sista to me. Anyhoo...I know she's had some work...she's a lil plastic-but not too drastic.
Obvious Nose Job...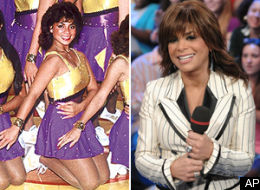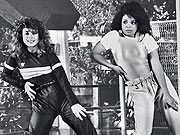 And her breasts
*see below*
(ouch-wth??) thank God for corrective surgery whew
According to Dr Disaia of the blog
Truth in Cosmetic Surgery
re: Paula Abdul,
"She probably has old implants but also Pectus excavatum, an inherited chest wall deformity

you can't blame her surgeon for that....lol.

Her breasts could be lifted but to improve the "dent" between them a more involved procedure would be required."
MUCH BETTER!!
Paula performed on American Idol yesterday singing her 2nd single off of her CD entitled, 'I'm just here for the music'- I love watching her dance. Anyhoo check out her peformance, below.